Προηγμένο εργαστήριο "Ήφαιστος"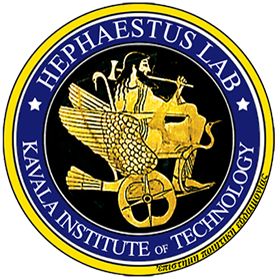 Hephaestus is an advanced research lab within Eastern Macedonia and Thrace Institute of Technology (EMMATECH), worth more than €10,000,000 and comprising three main sections:
Material science that covers the area of porous materials, from synthesis to characterization and from nanotechnology to oil & gas reservoir engineering (catalysis, membrane technology, flow in porous media are some examples).
Electrical engineering that specializes on remote electrical measurements.
Mechanical engineering that covers metrology, robotics, and renewable energy systems.
It is well known that between R&D and market there is a gap where most of the ideas die. Innovation is bridging this gap. However successful bridging is a laborious task requiring specific implementation measures; one (and the most expensive) being the facilities.
Hephaestus Lab aims to serve as a canter of excellence both academia and industry (locally and internationally) to this direction towards a successful development of an innovation ecosystem in our region with a possible contribution to the global problem.
For a full presentation of Hephaestus Advanced Lab, visit the Lab's official website.